The ROC team is organizing a summer workshop on June 29, in the countryside near Paris, in rue nationale, Limay, 78520.
This workshop is the last meeting of the current academic year. The detailed program for the day is below.
Agenda
10:00 – 10:30
Opening
10:30 – 12:00
Status report on ROC management commissions:
– commission web : Stéphane Rovedakis, Nour Yellas
– commission locaux : Yulliwas Ameur, Stéphane Rovedakis.
– commission cloud : Davide Raimondi, Dung Chi Phung.
– commission nouveaux arrivants: Christophe Maudoux, Nour Yellas.
– commission publication: Prosper Chemouil, Pedro Velloso
– commission matériels: Lydia Ouali.
12:00 – 14:00
Lunch break
14:00 – 16:00
Best Research Pitch Challenge:
competition for the best presentation of Ph.D. students
and interns research topics.

– Nour El Houda Yellas, on orchestration protocols in edge computing.
Finding optimal placement of edge clients in a federated learning environment.
– Yulliwas Ameur, on homomorphic encryption and machine learning. WINNER
– Alessandro Aimi (with Orange), on network automation architectures.
It turns out that a duty-cycle and some trial and error are all you need!
– Christophe Maudoux, on mobile botnet anomaly detection.
– Kamal Benramdane, on contextual orchestration.
Orchestrating entities (users, companies, organizations, services) inside a Digital Ecosystem, by taking into account the users intentions and the context of the platforms.
– Lydia Ouaili, (with Trasna Solutions) on self-sovereign identity management.
We focus on decentralized applications such as decentralized identity management systems as well as their scalability in terms of numbers of participants.
– Rezak Aziz, on Quantum Differential Privacy on chip.
We discuss the intersection of machine learning, quantum computing, and privacy preservation techniques to address complex problems while safeguarding sensitive data.
– Hussein Hamdouna (Cnam), on Accelerating Fully Homomorphic Encryption with FPGA.
I will be introducing the topic of my project, what is about, and tasks to be done to achieve it.
– SROUR Ali (Cnam), on 5G testbed extension using OpenRAN.
Deploying and implementing OpenRan system on SA 5G RAN using srsRan-Project open source and 5gcore.
– KAYANI Moheed Ali (Cnam), on the integration of mobile LoRaWAN devices in NS3.
My Goal is to use the dataset of bikes and integrate mobility in nodes in the ELoRa (End-to-end Emulation of Massive IoT LoRaWAN Infrastructures) environment.
– GUEMDANI Moussa (Cnam), on stream processing for federated learning environments.
Harnessing the synergy of message broker and stream processing for in-network online learning.
– ZHANG Haoxuan (Cnam), on zero-touch automation loop for networks with cloud native infrastructure.
This project is a system using RL agent to make a best decision of several actions in order to change the abnormal state in the Cloud native Infrastructure into normal state in limit epoch.
– Fatemeh Salmaniseyedmahalle (Cnam), on Data tolerate network (DTN).
Transferring data efficiently by buses and predict position and contact times between them (instead of relying on continuous connectivity, DTN allows us to take advantage of the short moments when buses are in contact)
16:00 – 17:00
Any Other Business
---
Registration
The ROC workshop is also open to anyone, including Ph.D. students of other institutions and labs. To register, please drop an email to yulliwas.ameur AT cnam.fr and guilherme.iecker AT cnam.fr, before Jun. 22, 2023.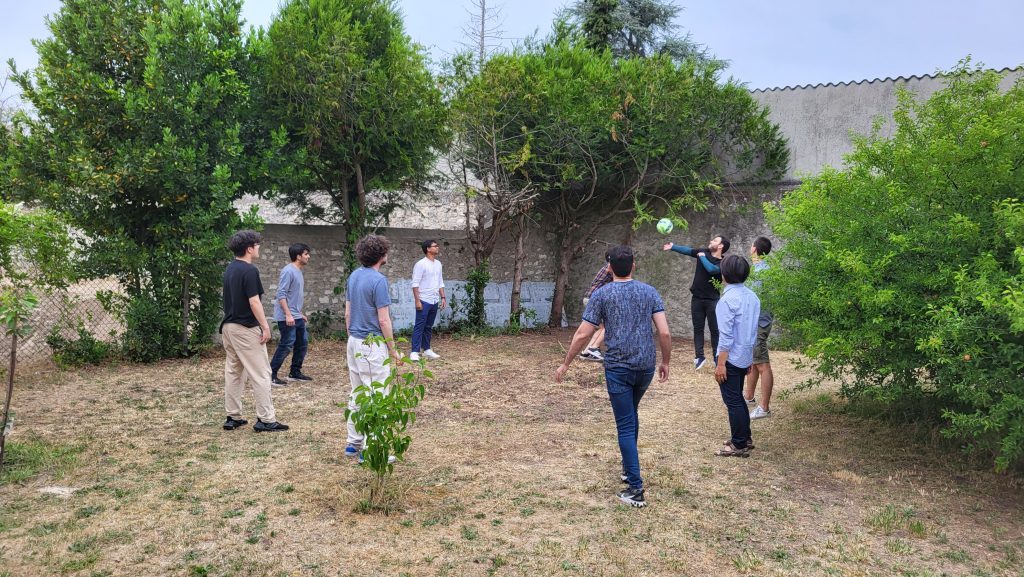 ROC Workshop 2023 – June 29, 2023